Medicare & Chiropractic Documentation – 3/9/2023
DATE & TIME
03/09/2023
12:00 pm - 4:00 pm
Local time based on seminar location.
This Seminar has been rated:

CRITICAL
Critical: Attendance Mandatory —  Code and Rule changes necessary for payment and audit avoidance.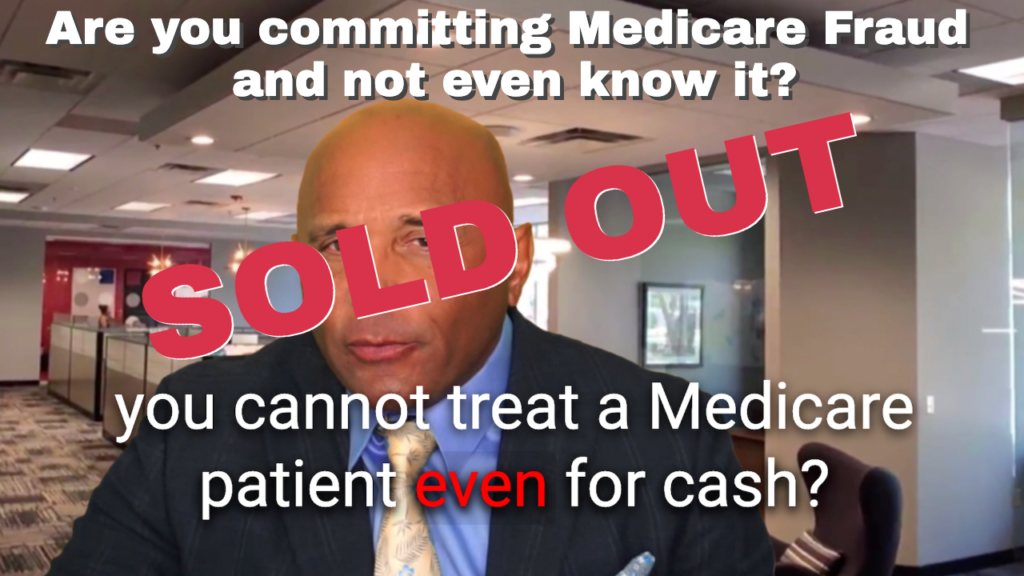 Please read the following it is critical information you must be aware of before you leave this page.  If you have read it, read it again.
Question #1: I don't treat many Medicare patients, why would I want to sign up for this seminar?

If you don't treat many Medicare patients, you should.  Besides the share numbers, they're great patients.  And, not every Medicare patient is hobbling into your office.  Many of them are in better shape than you. And, don't give me the, "They only have a certain number of visits per year" excuse.  How many of your new patients who are not Medicare stay around as long as most Medicare patients will?  Plus, there is a cash alternative.
Question #2: I'm a cash practice or I am switching to a cash practice so how does this seminar apply to me?

Being a cash practice does not in any way shield you from the rules, regulations, or penalties of Medicare.  In fact, it's equally or more important for you to know all about Medicare compliance.
Think about this.  "…whistleblowers could stand to receive aggregate awards in the billions if they file a qui tam lawsuit with the right whistleblower law firm."     
For every dollar the government recoups, the whistleblower gets 30%.  That means you have to dot every "i" and cross every "t", because you never know if the next person that walks through your door is there for the care or for the reward.  And you never want to be on the wrong side of a Medicare audit.  Lack of knowledge is not a defense.
Question #3: If I advertise on Social Media is there anything I need to be aware of?
Social Media is a great way to get exposure for your practice if done correctly.  However, if you are going to use it as a way to attract new patients, remember to make sure that you cover all your bases.  Because this will be scrutinized by Medicare and non-Medicare alike.  Make sure you are totally Medicare complaint.  If you are not 100% sure everything you put out is compliant, then this seminar is a must.   
THIS SEMINAR HAS SOLD OUT
Boundaries of Medicare Services
Risk Management of the Medicare Audits

Medicare reviews and audits

Types of reviews

What to do if the OIG is coming to your office

How to respond to a records request

Clinical Review Judgement

Re-submitting claims and processable claims

Balance billing

Excluded or non-covered services and out of pocket costs to the patient

CMS-855 Enrollment Form Information

CMS-588 Electronic Funds Transfer form 
The HJ Ross Seminars will be holding this program remotely so that all registered attendees may still view the seminar live. Registration below!
---
*This Seminar is  approved for CEU's in most states
Register
REGISTRATION
Bookings are closed for this event.
100% refund 30 days before the seminar start date. Credit only after 30 days of the seminar start date.
I acknowledge and understand that if I have a coupon code, I must enter it at time of registration. I understand that a discount cannot be applied after my registration is completed.